The month of October has been very busy here at MainStreet Family Urgent Care – Talladega. We have loved being able to be a part of community events and those to come!
First, we sponsored a luncheon for the Alabama Extension System for their annual breast cancer awareness luncheon.
Talladega College held their Fall into Good Health Fair at their gym on October 24th. We had so much fun educating the students on what urgent care is and how it can be beneficial to them while they are in school. Dr. Wags had a blast meeting the students and vendors!
Later in October, we attended R.L. Young Elemetary's Fall Festival. This is one of their biggest annual fundraisers. We brought games for the students to play and win prizes and of course Dr. Wags had to dress up for Halloween.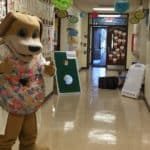 Halloween night was our busiest. We gave out candy bags all day at the clinic, and then we went trick or treating on the Historic Talladega Square where we gave out over 1500 pieces of candy. When we ran out, we encouraged everyone to stop by the clinic to meet Dr. Wags and get a candy bag.
MainStreet Family Urgent Care – Talladega had a GREAT October! We cannot wait for the future!