SYLACAUGA, Ala. – The 2nd Annual Stuff the Bus Food and Toy Drive concluded on Friday, Dec. 8. The drive was presented by SylacaugaNews.com, 98.3 Fox FM, Yea!106.5 and benefited Alabama Childhood Food Solutions (AFCS) and the Sylacauga Alliance for Family Enhancement (SAFE). The drive was sponsored by RadioAlabama, Farmlinks at Pursell Farms, Sylacauga Chamber of Commerce, Huddle House and MainStreet Family Urgent Care.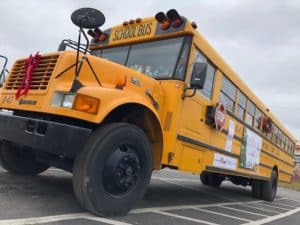 Last year, Stuff the Bus efforts helped feed more than 4,200 just in the month of December alone and make more than 140 families happy with toys on Christmas. The charity event was recognized for its community service and was recognized with a state award from the Alabama Broadcasters Association. Read more about the event from ALCFS and the Sylacauga Chamber of Commerce.
As successful as last year's drive was, 2017's was even more spectacular.
"This is almost triple of what we did last year, and I think this was a great success," said Jim Jones. Jones is the executive director of Alabama Childhood Food Solutions. "Because of last year's drive people were more aware this year of the needs of the families in our area. Alabama Childhood Food Solutions is excited to have the results we had this year."
Many of you donated to the bus this y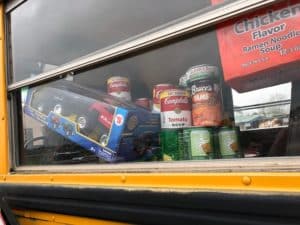 ear that sat just off of Hwy. 280 in the parking lot between two of he drive's sponsors, Huddle House and MainStreet Family Urgent Care. Jones attributed some of this year's success to the prime location of the bus.
"We are absolutely thrilled the Second Annual Stuff the Bus Food and Toy Drive was a success," said Michael Brannon, Executive VP of RadioAlabama. "We never had a doubt the community would step up to the plate and donate food and toys to those in need this holiday season. It makes you feel really great to know you've been a part of something so much bigger than yourself. Giving back during the holiday season is what it's all about and we are proud to pioneer this in Sylacauga."
Although Stuff the Bus has ended, Jones says awareness of hunger in our area should never cease. "Hunger never takes a day off," Jones explained. "We need your help to consistently feed the hungry in our area."
###
© 2017, SylacaugaNews.com/Marble City Media LLC. All Rights Reserved. RadioAlabama's network (Yea!106.5, WYEA!1290, 98.3 Fox FM, 105.1 WRFS, 96.3 & 1050 WLMA) along with SylacaugaNews.com reports local news around the clock and will keep you up-to-date during breaking news and weather. For real-time alerts fromSylacaugaNews.com, text "news" to 59925. Standard text message rates may apply. Click here to e-mail the reporter.