MainStreet Family Urgent Care's Sylacauga clinic has had a busy Summer!  Dr. Wags has been traveling from Alexander City to Childersburg putting smiles on faces.  Here's a look at some of our fun events from the Summer: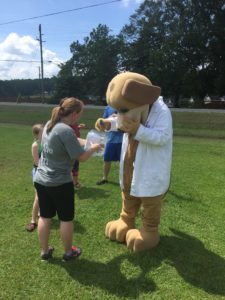 Dr. Wags and the MainStreet team had a great time at Dayspring Worship Center in Sylacauga.  Their annual "Fun in The Son" festival was a great hit, complete with water slides, food, and giveaways!  Dr. Wags was lucky enough to draw winners for the prizes!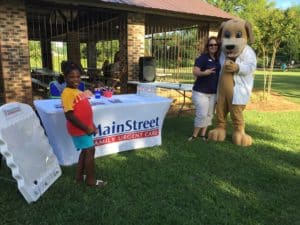 MainStreet was proud to partner with Sylacauga Alliance for Family Enhancement's annual National Night Out. We had a great time playing Plinko and giving away lots of goodies and school supplies!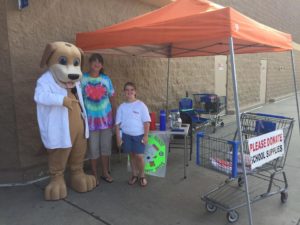 In preparation for SAFE's National Night Out event, Dr. Wags helped collect school supplies at Wal-Mart in Sylacauga!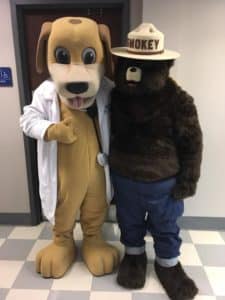 Dr. Wags made lots of new friends this summer, including Smokey the Bear!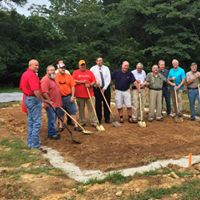 The groundbreaking for SAFE's community greenhouse was a great day!  Many people from the community came out to help with this exciting event!  The greenhouse will be used as a teaching tool for Sylacauga and Talladega County students.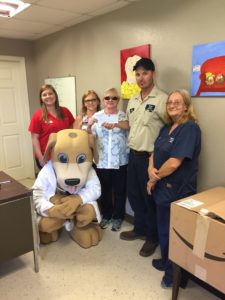 Proceeds from this year's Bark in The Park were presented to the Sylacauga Animal Shelter with the other sponsors of this great event!
MainStreet Family Urgent Care is proud to be a part of our wonderful Community!  We have many exciting events coming up in the coming weeks and months, and can't wait to continue to see our fantastic friends and neighbors.