Cherokee County Christmas Parade
November 30, 2017
Dr. Wags had the pleasure of being involved in the Cherokee County Christmas Parade conducted by the Cherokee County Chamber of Commerce. The Christmas parade was a huge success. There were floats coordinated by sports teams, politicians, churches, school groups, restaurants, medical groups, and more. We were so happy to be able to spread the Christmas cheer throughout Centre on this night. From the start to finish, the parade lasted over an hour.
With this being the Christmas parade for all of Cherokee County, you could imagine the audience size! There were hundred of people who attended this annual event. I'm sure most everyone was waiting on the guest of honor, Santa, but I know  Dr. Wags stole the show before Santa made with appearance.
Dr. Wags wondering who  will show up to the parade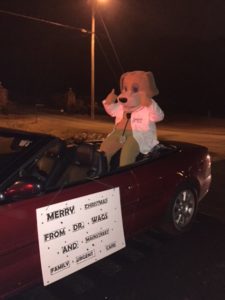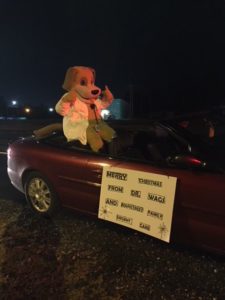 Dr. Wags getting ready to roll!
Thank you again for the city of Centre and the Cherokee County Chamber of Commerce for putting on such a successful Christmas Parade!
Merry Christmas from Dr. Wags and MainStreet Family Urgent Care!