Dr. Wags Celebrates 100 Days of School with Arab Primary School
On January 25, Arab Primary School celebrated being in school for one hundred days. Each student dressed up as a 100-year-old person to celebrate the day with some fun! The school was filled with walking canes, hair rollers, and grey hair. Our mascot, Dr. Wags was lucky and joined in for the afternoon activities.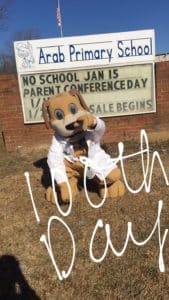 Around 1:30 PM the First Grade classes circled around the flagpole in front of the school. The Principal of the school, Dr. Leah Keith, joined the group and counted to 100 in unison. Then together released 100 balloons at the end! Even Dr. Wags had a balloon to release.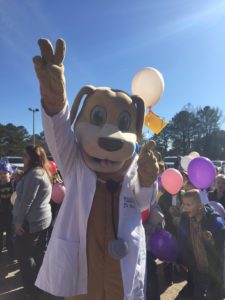 Thank you to Arab Primary School for letting Dr. Wags participate in the 100th day of school!