On September 9, 2017 the Arab Historical Society hosted the annual Community Fair.
We are so honored to have been given the opportunity to be a part of such a wonderful event! We showed up to the Community Fair ready to have a great time and hand out prizes! We offered to let each person play our MainStreet version of plinko to win some of our MainStreet goodies. We even had a special guest come to visit, Dr Wags! This even was so fun, and there were vendors from all over.
We were surrounded by so many creative individuals that were there to show the world their work. There were items from painted wood signs to homemade dog treats (of course Dr. Wags loved the dog treats).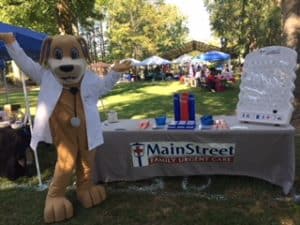 Thank you to each individual who stopped by our booth to see us and win some prizes.
We hope everyone had a great time supporting the Arab Historical Society!