Judy Upton Memorial 5K & JuJu Fun Run
August 12, 2017
MainStreet Family Urgent Care – Arab was approached about being involved in the Judy Upton 5K and Juju Fun Run, and we could not resist this amazing opportunity to get out and support this awesome cause. All proceeds from this event went to the Judy Upton Memorial scholarship fund!
We had such an awesome time handing out goodies and playing with the kids. Dr. Wags never hesitates to meet new friends wherever he goes!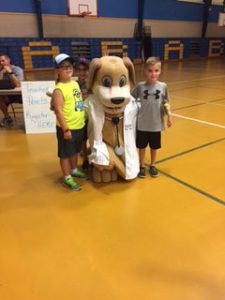 We started off the morning by meeting everyone at check-in to pump them up for the big race. Next, we anxiously wait the start of the race by dancing and playing with our new friends! Not only did Dr. Wags have an amazing time making friends, but he also cheered on all of the participates. The race consisted of a 5K run and also a 1 mile fun run. Dr. Wags was there to cheer on the runners at the starting line and the finish line! It was great to see all of the endurance and persistence shown by ALL of the runners. This run was inclusive of all ages, and all species (Dr. Wags was pretty happy about that part!).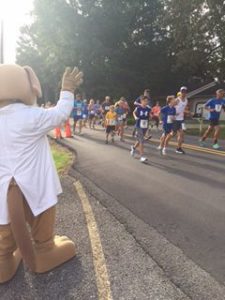 To finish off this awesome day, we watched all of the awards being handed out! It was so great to see all of the participates get the recognition they deserved for being involved in such a meaningful event.
Winners in AGE GROUPS:
0-9 MALE Gaines Cooper 29:54
FEMALE NONE
10-14 MALE Luke Sanders 21:30
FEMALE Julie Stapler 26:34
15-19 MALE Yonathan Vega 22:31
FEMALE NONE
20-29 MALE Kent Myer 23:45
FEMALE Kayla Walls 26:44
30-39 MALE Michael Oliver 23:28
FEMALE Ashlyn Myer 30:18
40-49 MALE Michael Leak 27:20
FEMALE JoAnne Hanson 29:30
50-59 MALE David Clemons 23:52
FEMALE Kim Sanders 26:56
60+ MALE Jim Upton 24:50
FEMALE Pam Taylor 27:24
OVERALL MALE Trent Mason 20:15
FEMALE Grace Gosline 24:14
FEMALE MASTER Christie Harris 25:48
MALE MASTER Will Hanson 23:43
Thank you for letting MainStreet take part in the Judy Upton Memorial 5K and Juju Fun Run!